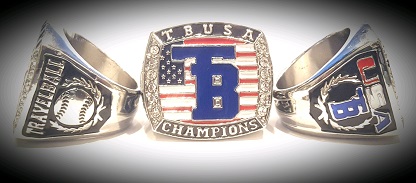 SPRING TRAINING XI - ENTERPRISE, AL
HENDERSON PARK / ENTERPRISE, AL
February 22, 2020 through February 23, 2020
**2020 SPRING BASEBALL SCHEDULE** (ENTERPRISE, ALABAMA)
ENTRY FEE: 7U-8U FREE, 9U-13U $325. COME JOIN TBUSA. LIMITED SLOTS AVAILABLE DON'T WAIT AND MISS OUT REGISTER YOUR TEAM TODAY TO SAVE YOUR SPOT.
**TEAMS LISTED HAVE CONFIRMED PLAYING**
Teams have until Wednesday to Sign Up
Brackets will be posted by Midnight Wednesday
COACHES ONLY (1) TEAM COOLER ALLOWED IN PARK.
NO PERSONAL COOLERS ALLOWED IN PARK.
NO PETS ALLOWED IN PARK.

Tournament Entry Deadline: February 19, 2020 at 6 pm CST
Pay online or make checks payable to TBUSA.
Saturday games will consist of pool play. Seeding will be based on Saturdays performance leading into Sundays Championship with single elimination play. Team trophies with individual awards for 1st and 2nd place teams in each age division.
7U
7U South GA Mariners, Inc.
7
Leesburg, GA
Troy Warriors 7u
7
Troy, AL
8U
SC Prospects
8
Headland, AL
Crenshaw Patriots
8
LUVERNE, AL
Dirtbags
8
Enterprise, AL
Troy Warriors 8u
8
Troy, AL
Avengers 8U
8
Enterprise, AL
Tallahassee Heat 8U
8
Tallahassee, FL
Traveling Eagles
8
Niceville, FL
9U
Avengers 9U
9
Enterprise, AL
South Alabama Rattlers
9
Rehobeth, AL
Southern Closers 9U
8
Headland, AL
South Alabama Arrows
9
Andalusia, AL
Klutch Brand
8
destin, FL
Molino Impact
9
Milton, FL
10U
11U
Sandlot
11
Apalachicola/Port St Joe, FL
East Coast Sox 11U 2020
11
Santa Rosa Beach, FL
Southern Flames
11
Enterprise, AL
Headland Hawks 10U
11
Headland, AL
Trojans 11u
11
Troy, AL
SE ALABAMA IRONMEN 10U
11
Enterprise, AL
12U
Iron Sluggers
12
Enterprise, AL
East Coast Sox 12U 2020
12
Santa Rosa Beach, FL
13U
East Coast Sox 13U 2020
13
Santa Rosa Beach, FL
Titans
13
Taylor, AL
14U
15U
16U
17U
18U

Print Brackets
Brackets have not been set. Please check back closer to the event.
Please check back after the tournament begins to see the results.
Event Address: 1901 NEIL METCALF RD, ENTERPRISE, AL 36330

Map and Directions
Weather: